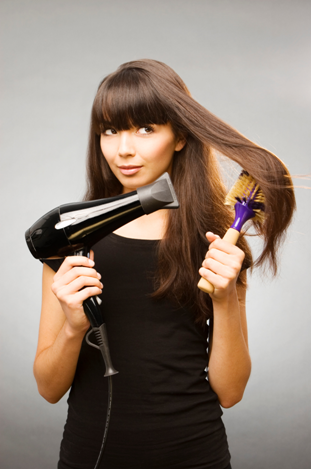 Instead of spending your own precious time or fortune in hair salons, learn several methods of styling up on your own. Once you learn the tricks for shaping your hair at home, it will be possible to have the perfect style every day.
Never start drying your hair right out of the shower, not only it will take too long, but completely wet hair is difficult to shape. Besides, ruthless brushing will cause wet hair to break. Instead, use towel for gentle drying and let it dry naturally while you dress up. When 80 percent dry, hair is ready for blow dry shaping. Exception to this is coarse, curly hair that should be dry 25 to 50 percent only.
For more volume, lift the strands with your fingers while blow drying, or dry the hair upside down. For shiny and perfectly straight hair, sweep it aside and shape only after blow drying.